Progress
Progress headlines 2018-19:
Total for all core subjects (English, maths, science and computer science).
Pupils have made slightly better progress in English than in Maths this year. However, our combined figure for the 4 core subjects of 77% having achieved their target and 89% within range, is very pleasing.
Attainment
SATs results 2019
Most pupils at Elms School have a combination of Social, Emotional, Mental Health and Learning difficulties needs. Therefore, they are mostly working below average expectations. However, eleven pupils achieved a result in the SATs tests this year.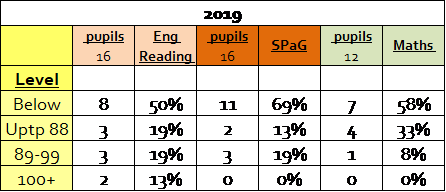 Exam results 2018
Year 11
9 of our year 14 pupils achieved passes at GCSE and or BTec Level 1 and 2
This year we had 80 exam entries and over 77 passes.

---
Further information regarding the school's performance can be found at the DfE website: