Progress
Attainment
SATs results
The majority of pupils at Elms will be working at levels below the threshold for awarding points. Any pupils who achieve the standard 100 should transfer to Goldwyn or Portal House, where they will be offered 8 GCSE courses.
2020 SATs did not take place this year due to the Covid-19 lockdown

Exam results
The table below shows the percentage of pupils attaining their predicted grades at the end of Key Stage 4. Prior to 2017, results were predicted by teachers rather than using the KsENT algorithm. Now we use the algorithm which we believe sets challenging targets.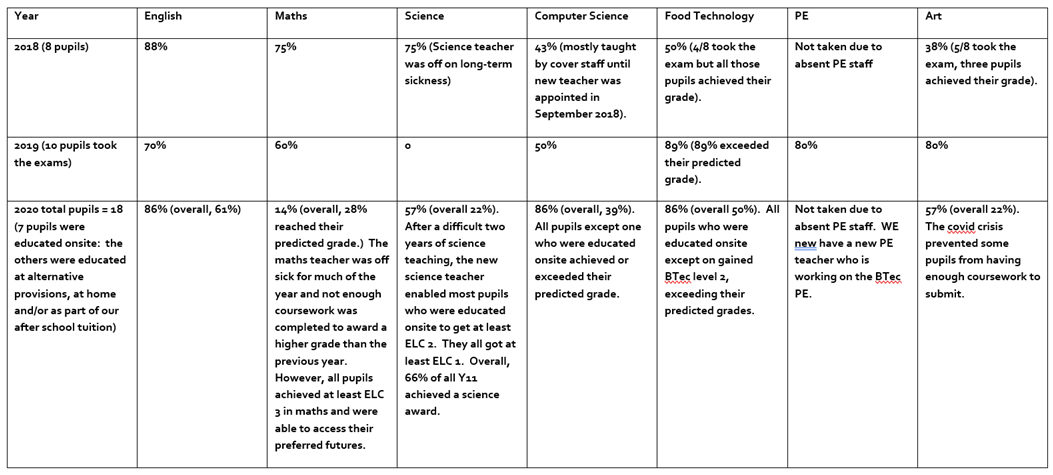 This year's results are down for two reasons:
The Covid crisis forced the partial closure of the school and we did not have sufficient coursework in some cases to submit so that the previous year's grades could be increased. However, 94% of pupils achieved an Entry level or higher qualification in English and 94% in maths, with 89% getting at least and Entry level in both English and maths.
Only 66% of pupils took an exam in science and 39% took an exam in Computer Science. Had it not been for Covid, more pupils would have sat the summer exams.
---
Further information regarding the school's performance can be found at the DfE website.