5B
Welcome to Term 5 and hopefully nicer weather and more outside time! We have got lots of exciting things to learn this term, so hopefully we can keep up the good work from before the Easter Holidays and have lots of fun too! Miss Mount
In History this term we will be learning about the Middle Ages. We will get to learn all about castles and knights as well as other things about these times.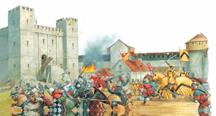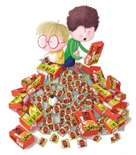 We have got lots of exciting books to read this term. One of them is called 'Dinosaurs in the Supermarket' another one is called 'There's a lion in my Cornflakes.' What do you think these books might be about?
We had great fun last term on Red Nose Day! We did apple bobbing and flour dipping as well as the doughnut challenge. I think you all got your revenge with the flour war afterwards!